Featured Products
Regular price
R 650.00
R 1,000.00
Sidebar
Optimum - Lathe D280 x 700G 220V
: In stock
: Lathe
: optimum
LOCATION
&nbsp&nbsp&nbsp&nbsp&nbsp&nbsp&nbsp : Local Stock
Regular price R 52,743.00
STAND NOT INCLUDED Lead screw lathe with feed gear for demanding users Technical Specifications Connection 230 V / 1 Ph ~50 Hz...
QUESTIONS & ANSWERS
Have a Question?
Be the first to ask a question about this.
Ask a Question
STAND NOT INCLUDED
Lead screw lathe with feed gear for demanding users
Technical Specifications
| | |
| --- | --- |
| Connection | 230 V / 1 Ph ~50 Hz |
| Driving motor spindle | 850 W |
| Spindle taper | MT 4 |
| Spindle hole | |
| Spindle seat | Short taper |
| Quadruple tool holder Height | max. 13.5 mm |
| Centre height | 140 mm |
| Centre width | 700 mm |
| Turning Ø over lathe bed | 266 mm |
| Bed width | 180 mm |
| Spindle speed | 150 – 2,000 min-1 |
| Number of steps | 6 steps |
| Travel top slide | 60 mm |
| Travel cross slide | 160 mm |
| Longitudinal feed in the range of | 0.07 – 0.4 mm/U |
| Pitch – Metric in the range of | 0.2 – 3.5 mm/U |
| Pitch – Inch in the range of | 56 – 8 Gg/1 |
| Tailstock seat | MT 2 |
| Tailstock – sleeve travel | 85 mm |
| Dimensions (L x W x H) | 1,370 x 640 x 535 mm |
| Net weight | 180 kg |
Description
Lead screw lathes with feed gear for demanding users
Precise manufacturing
Powerful, maintenance free motor
Heavily ribbed prism bed made of grey cast iron, inductively hardened and precision ground
Hardened and ground bed guideways
Guaranteed true running accuracy of the spindle nose better than 0.009 mm
True running accuracy of the lathe chuck better than 0.04 mm
Automatic longitudinal/leading spindle drive
With leading spindle for threading or automatic longitudinal turning
Right-/left-handed rotation switchable on
Leading spindle run on two porous bearings
Handwheels on the slide with adjustable precision scaling of 0.04/0.01 mm
Change gear kit for thread cutting
Thrust bearing
Emergency-stop push button
Fully equipped machine, the user can immediately start to work productively
TU 2807 V
Infinitely variable speed control for brushless motor
Smooth and high performance DC drive with
excellent control characteristics
High-precision tool chuck for higher speeds
Speed change easily adjustable via potentiometer
Digital speed display
Features:
Slide
Quadruplicate tool holder
All guideways adjustable via V-ledges free of play
Rolled trapezoid spindles
Chip protection at the top slide
Milling machine BF20V mountable
Top slide adjustable on cross slide
Tailstock
Adjustable by ± 5 mm for taper turning
Tailstock spindle sleeve and handwheel with adjustable precision scaling
of 0.02 mm
Rapid and easy adjustment of the tailstock by means of a clamping lever
Main spindle
Hardened and with readjustable precision tapper roller bearings
Two taper roller bearing of P5 quality
Short taper, hardened spindle nose with a Ø spindle hole of Ø 26 mm
Feed gear
Smooth running
Rounded toothed wheels
Running in the oil bath
Powerful Brushless drive
Particularly smooth running
Nearly constant torque over the entire speed range
High power output
Delivery Information
3-jaw lathe chuck Ø 125 mm
Fixed center MT 2 / MT 4
HSS lathe chisel
Quadruple tool holder
Change gear kit
Operating tool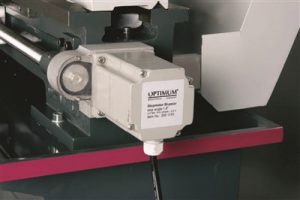 Please Read Our Shipping Agreement before you place an order, 
Urgent Notice - Packages Will No Longer be sent with SAPO due to lack of service from their side. All parcels will be delivered to your address via Courier. 
Product location:
Please check Item location at the top of the product page as it will show Local stock or overseas warehouse.

Local stock means that its in stock at Our JHB Dispatch.
Overseas warehouse means that it has to come from our overseas warehouse.
Final Delivery of orders: 
Delivery of your order To the door will be Done by The Courier Guy (0861 203 203) You can Track the parcel using the link wich will be emailed to you upon dispatch of your order, Or by typing in the tracking number at The courier Guy Tracking
Delivery rates: 
All Local Stocked item Rates:
All of South africa EXCLUDING Gauteng:
Courier Door to Door Delivery - Economy — ZAR 130.00
Courier Door to Door Delivery - Overnight — ZAR 160.00
Gauteng  
Courier Door to Door Delivery - Economy — ZAR 100.00
Courier Door to Door Delivery - Overnight — ZAR 130.00


All Items from overseas Rates:
Courier Option (7-15 Working days) — ZAR 450.00 
NON Express Courier (Consolidated shipments) 10-25 working days. — ZAR 250.00
LOCAL STOCK lead TIme:

If A Product is in stock locally our estimated lead time is:
Gauteng - Sameday or Overnight Delivery, 
All other Provinces: Overnight or 3 working days. 
Stock from overseas Lead Time:
- Estimate Courier Delivery time: About 7-15 working days, Usually sent with TNT


- Estimate NON Express Courier (Consolidated shipment) Time: About 10~15 working days to deliver to your door. (7 Day Processing time) No Customs fees.


Please take note on NON express Courier: 
Parcels will be collected at our warehouse packed together into one shipment and sent to us. We will then Courier it to your door. No Customs fees will be applicable on these shipments.

Please note a 15% processing fee as well as a Return Fee will be Applicable on returned, unwanted items.
Delivery is GUARANTEED should you not receive your goods ordered within 60 business days of shipment that you will be refunded if the order is not yet in the country.Guarantee not applicable on postal shipments.


Optimum - Lathe D280 x 700G 220V
Regular price R 52,743.00